Alumni Feature: Trey Smith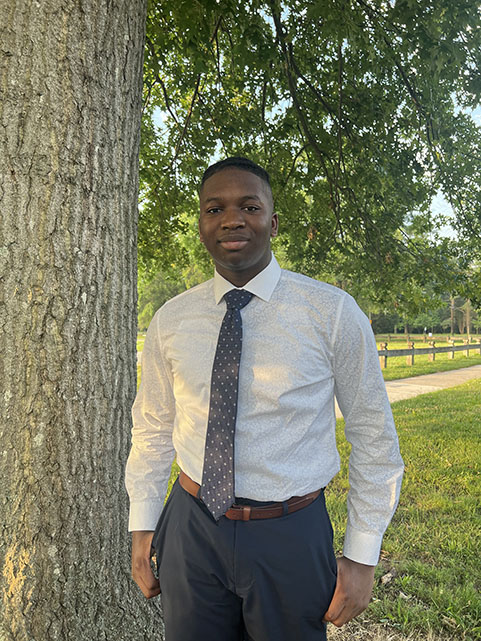 George "Trey" Smith, from Warwick High School in Newport News, Virginia, is one of Policy Pathways' most recent program alumni. He successfully completed the Summer Academy for Policy Leadership and Public Service Online as well as the subsequent five-week Policy Research Internship program this year!
Trey has been involved in Project Discovery, a division of the Hampton Roads Community Action Program (HRCAP), for the past four years. The state-wide organization is dedicated to student success in high school and post-secondary education. Through a sponsorship through HRCAP, Trey was able to attend the Summer Academy and earn the $1,000 internship stipend.
A high school senior, Trey is excited to take up introductory guitar this fall. This will make room for his self-study course in cybersecurity, a subject in which he has shown deep interest. He has embarked on an online independent learning computer science course, which he plans to highlight in college applications.
Trey has already visited various Virginia colleges. He has gone on tours with Project Discovery and his parents and followed his sisters' experiences at their schools. He has his sights set on Michigan State, Georgia Tech, or Old Dominion University. "I have been really interested in cybersecurity as a career… so I've decided to pursue a degree in computer science," he said. Georgia Tech, especially, with its top-five rating of undergraduate programs in cybersecurity, is where he would like to go.
The skills he picked up in the Policy Pathways Summer Academy and Internship program will be of great use to him moving forward. Trey developed a knack for Excel, not only as a data analysis tool but also for organizing information. He learned to manage his time and program expectations amid a busy summer schedule. He enjoyed the application of data analytics and statistics in the internship most of all. "It connected to more of what I can do now. It was cool to see those processes and use them."
For the final project of the internship, Trey created visual representations of data sets regarding birth rates in Virginia. "I took into account mainly how long people were in the hospital per diagnosis by age," Trey shared. "It was insightful to see for myself what different cases go on in the hospital and how long it usually takes for multiple women who have these diagnoses to be released. It was very insightful to see."
Of both the internship and Summer Academy, Trey said that "just being able to log in to the Zoom classroom and learn something was a good experience. The program was very fun. I learned more about myself and about things that are more than myself, something bigger than me."
Particularly regarding the myriad of policy issues, procedures, and aspects that society revolves around, he was able to gain more insights on global and lesser-known local happenings. He said, "I liked seeing more about the world that I didn't see before. For example, I didn't know that China and Ghana had a [trade] relationship with each other. Everything I saw in this program provided more insight for me. I really appreciated that experience."
We were delighted to have Trey with us this summer and look forward to watching him develop into a well-informed cybersecurity policy expert.